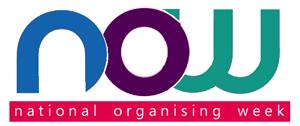 Contact: Zoe 07525439692 and Allyson 07763876049
Want to clear your clutter? Do it NOW! That's the message as Britain's organising experts launch a drive to make life simpler and help you get the most out of your space, time, and belongings.
The Association of Professional Declutterers and Organisers (apdo-uk) has been on a mission to help the people of Britain get better organised for a decade.
Now to celebrate its 10th birthday apdo-uk is holding National Organising Week (NOW) – a campaign to inspire everyone to tackle their clutter. From November 1 to November 7 apdo-uk will be holding activities and sharing our top tips to get organised and cut out the clutter.
Local professional organisers and apdo-uk members Allyson and Zoe of Declutter Divas say:
"Britain today is described as a 'throwaway society' but the reality is that a lot of us feel bad about getting rid of stuff we don't need, use or love, even if it doesn't have a role in our life any more.
"Add the 'waste-not, want not' philosophy we have inherited from previous generations to a world where consumer goods are more affordable than ever before and the result is a rising tide of clutter chaos.
"And when clutter is clogging up your home, it creates a mental muddle too. Clear it out and you'll not only have more physical space but you'll lift an emotional load off your mind at the same time – plus you'll save yourself all that time you currently spend looking for things you can't find!
"Getting started however, can be the hardest part of the whole process. Sometimes the task of tackling the clutter on your own can feel overwhelming, and that's when a professional organiser can help clear a path through the mess and the stress it brings to a calmer life and home."
The motivational message for National Organising Week is Do It NOW! So here are eight 'quick win' tips, one for each day of the week, if you always find an excuse to put off clearing your clutter.
Defrost your freezer – it will work more efficiently and will give you more space. Throw away all of the unlabelled bags, out of date foods and reorganise your food so you now know what you have more easily
Recycle all of those old magazines and papers, only keep articles of importance in a labelled file
Give your car a spring clean and throw out all of those sweet papers, parking tickets, old carrier bags and general rubbish – you will so much more energised and fresher the next time you get in the driving seat
Clean out your medicine cabinet, there must be unused tablets and medicines out of date. You can hand these back to the local chemist. These out of date and unwanted medicines are recycled to support third work countries
Tackle your messy room this weekend, every time you walk past pick up four things and deal with them, you will soon feel you have made progress
Have you got unwanted gifts, donate these to a local school or playschool as raffle prizes as these will be really appreciated
Ladies time to clear out your purse and get rid of all those unwanted receipts and supermarket bits of paper, you may even find a hidden £10 note !!
Clear out your linen cupboard  and donate all old towels and blankets to the local PDSA or to Shelter for the homeless or to the local women's refuge
USEFUL LINKS
National Organising Week
apdo-uk blog: Do It NOW!
apdo-uk.co.uk